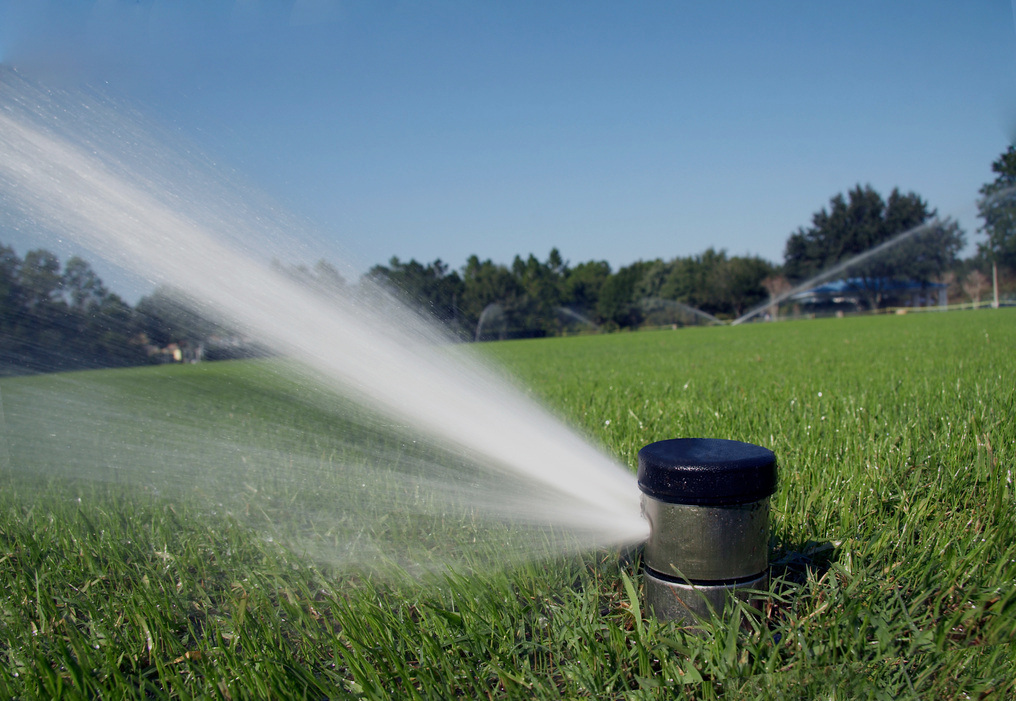 Halloran & Yauch, Inc.
Irrigation Systems
Design - Installation - Maintenance - Sales
About Us
Since 1967, Halloran & Yauch, Inc. has taken pride in providing long lasting, quality irrigation systems. We provide residential, commercial, and golf course design and installation service. Beyond installing hundreds of residential projects each year, we have been involved with the majority of prominent Chicagoland landscape and irrigation projects in the last several years including, Soldier Field, Millennium Park, O'Hare Airport, Art Institute, and Trump Tower. We also are involved with continuing work at The Chicago Botanic Gardens and Morton Arboretum. In 2000, we were listed in the top 10 irrigation companies in the United States. Our experience allows us to be the preferred irrigation company of many of the leading landscape contractors, landscape architects, builders, and homeowners in Chicagoland.
Halloran & Yauch, Inc.
All heavy duty PVC piping (click for details)
Piping at minimum 12" depth
Brass electric valves
Trained professional plumber/installer
#14 Gage Wiring
3-Year Guarantee/Warranty through Halloran & Yauch, Inc.
Established in 1967
Permits taken with Village
Licensed & Bonded with all Villages
Separate Service/Maintenance Personnel
As-Built Drawing upon completion
Minimum 25 year life of system
Highest Quality
Family owned and operated for over 50 years
State Licensed Plumbing Contractor
State Licensed Irrigation Contractor & employees
Certified Irrigation Association Contractor
EPA WaterSense Partner
Certified Landscape Irrigation Auditor
Other Irrigation Contractors
Lightweight Polyethylene piping
Usually 3" depth
Plastic Electric Valves
Unskilled labor/installer
Controllers plugged in
#18 Gage Wiring
Warranty through manufacturer
Here Today - Gone Tomorrow
Usually no permits taken
Usually not licensed & bonded with Villages
Usually poor or no service available
As-Built Drawing usually not provided
5-10 year expected life of system
Lower price
Disposable system
Design
Every property is unique and therefore requires maximum design effort to guarantee that a quality system is developed. Our staff of experts will produce a scaled and engineered irrigation design showing proper sprinkler head location and spacings for your review.
Installation
Halloran & Yauch chooses only the finest available materials to install in every one of its systems. The extra expense of the higher quality materials will be easily forgotten as your lawn sprinkling system continues to reliably operate year after year.
 
Maintenance
Halloran & Yauch will drain your lawn sprinkling system the fall after installation and activate it the
following spring as part of the contract. Once the first year of follow-up service has expired, annual
service programs are available.
 
Drip & Green Roof Irrigation

Backflow Preventer Installation & Service

Backflow Preventer Testing

Booster Pump Installation & Service

Pond Pump Station Installation & Service

Irrigation Wire Fault Finding Service
Interior Plumbing

Site Plumbing

Drinking Fountain Installation

Floating Fountaing/Aerator Installation & Service

Drainage Piping
Decorative Display Fountain Pumps, Piping & Service

Wire/Conduit Vibratory Plow Installation

Water Main Taps & Excavations

Meter Vault Installation

Rain Water Harvesting
Our Guarantee
Every Halloran & Yauch irrigation system has an unconditional three year guarantee against defects in material & workmanship.

An As-Built drawing of your irrigation system showing the actual sprinkler head, valve, pipe, and drain locations as well as full instructions for winter draining will also be provided to you at the time of completion.
Benefits of An Irrigation System
Water Savings
According to a university study in Texas, installing an automatic irrigation system will save 40% of the water typically used by watering your lawn by hand. Based on typical water costs, most homes in our area will recoup the investment in 2-3 years.
Time Savings
Irrigation systems work on their own, so no more wasting time manually watering. Now you have more time to do the things you love, while your lawn gets what it needs to thrive.
Money Savings
The benefits of an irrigation system outweigh the initial cost of the system, which will pay for itself sooner than you think.
Landscape Insurance
The cost to replace a drought damaged lawn is about the same as the cost to install an irrigation system. So, if a system saves your lawn just once, you have made your money back! Save it again and you are ahead.
Home Value
A better-looking landscape increases a home's value. A Clemson University study found homes with "excellent" landscapes sold at a price 11% higher than homes with an "average" landscape.
Request Services or More Information
Please feel free to contact us if you would like a quote or have any questions or comments about our services!
Our Office
28322 Ballard Drive
Lake Forest, IL 60045
service@hyirrigation.com
fax 847-281-9780